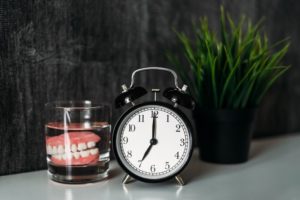 Dentures are a reliable and beautiful form of tooth replacement. After you adapt to your prosthetic, it might feel like a natural part of your smile. In fact, you might be tempted to keep it in your mouth 24/7! But is that a wise idea? How long should you wear your dentures each day? This blog post provides some important information for you to consider.
The Dangers of Prolonged Denture Wear
It is generally not a good idea to keep your dentures in your mouth 24/7. Doing so could lead to a number of problems, including:
Bacterial accumulation. Imagine what would happen if you wore your shoes 24/7 for several weeks straight. You might get an infection, and there would certainly be some unpleasant odors present. Something similar could happen if you do not remove your dentures to let the underlying gum tissues breathe.
Denture stomatitis. This uncomfortable condition causes a burning sensation in the mouth. It is the result of yeast and bacterial growth and is much more common in individuals who do not remove their dentures as often as recommended.
Problems with oral hygiene. You should thoroughly clean both your denture and your mouth each day. This is almost impossible to accomplish if you do not take your prosthetic teeth out.
Respiratory issues. You could inhale bacteria that accumulate in your mouth as the result of prolonged denture wear. This could lead to respiratory infections.
Accelerated bone loss. The jawbone naturally deteriorates after the natural teeth are extracted. Excessive denture wear can speed up this process.
So, How Long Should You Wear Your Dentures Each Day?
You can avoid the abovementioned problems if you remove your denture each night before bed. Let it soak in water or a cleansing solution overnight so your gums can rest while you are asleep. In the morning, you can rinse your denture, place it in your mouth, and wear it all day.
The only exception to this is if your dentist explicitly tells you to wear your dentures around the clock. This might be the case if you are very new to your prosthetic.
Dentures That You Can Wear 24/7
If you do not want to go through the process of removing your denture each night, ask your dentist if you qualify for implant dentures. Dental implants are prosthetic tooth roots, and they can support beautiful, highly functional replacement teeth. Some implant dentures are permanently attached to the underlying implant posts; they can only be removed by a dental professional. Therefore, they function and feel almost exactly like natural teeth.
Traditional dentures are designed to be removable — and for good reason! You can protect your health by taking them out of your mouth each night.
Meet the Practice
Dr. Keyvan Kar is an experienced prosthodontist, a dentist who specializes in dental prosthetics, including both traditional dentures and implant dentures. If you have questions about your tooth replacement options, he and our team would be pleased to speak with you. Contact our Allen dental office at 214-260-9911.