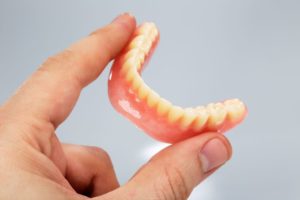 Traditional dentures are a popular form of tooth replacement that can provide reliable chewing ability and an attractive smile — but that is only true if they stay in place. Unfortunately, some people struggle with a prosthetic that simply does not want to remain where it belongs. Why might a lower denture keep slipping out of place? Is there anything you can do to address the problem? Continue reading this blog post to find out.
Why Are Your Dentures Slipping?
Usually, when lower dentures slip out of place, it is because they do not fit correctly. Their fit may be off due to one of the following reasons:
Changes in the jaw and gums. After the natural teeth are removed, the jawbone starts to shrink and change shape. Eventually, this can affect the gums' ability to support a denture.
Damage to the denture. Dentures are quite durable, but they can become damaged. For example, they may break if you drop them on a hard surface. It is also possible that they will become warped if you use hot water to clean them.
Low-quality dentures. Because they want to save money, some patients buy "bargain" dentures. Unfortunately, their new teeth may fall short of their expectations and not fit very well.
Of course, it must be noted that even if your dentures fit well, they still might slip out of place. This can happen if your prosthetic is new and you have not yet adapted to using it.
How to Fix Slipping Dentures
If you are struggling with a lower denture that does not want to stay in place, talk to your dentist. They might suggest one of the following solutions:
A denture reline. This involves adding material to the base of a denture so it has a more secure fit. In many cases, relines can be completed in a single appointment.
Denture adhesive. In most cases, natural suction is enough to keep a denture in place. Sometimes, though, a mild adhesive should be used to provide extra stabilization.
A new denture. If your denture has suffered severe damaged or is not a high-quality product, you might need to replace it altogether.
Implant dentures. Implant dentures are secured via prosthetic tooth roots, which are surgically inserted into the jawbone. Implant dentures are extremely sturdy and are not prone to slipping out of place.
A lower denture that slips out of place can be both annoying and embarrassing! Fortunately, your dentist may be able to offer a simple and effective solution.
Meet the Practice
Dr. Keyvan Kar is an experienced prosthodontist (a dentist who specializes in prosthetics). He offers both traditional and implant-based tooth replacement. If you are struggling with a denture that keeps slipping out of place, he and our team would be happy to assist you. Contact our Allen dental office at 214-260-9911.