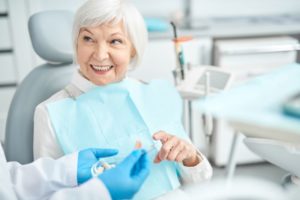 Would you like to replace your missing teeth with dental implants? They are, without question, the best way to rebuild lost dentition. However, you should not let your eagerness cause you to make rash decisions. Instead of partnering with the first dentist who pops up in your Google search results, it would be wise to spend some time considering your options. This blog post provides valuable tips on how to find the best implant dentist for you.
Consider Choosing a Specialist
Many general dentists offer dental implant services, and they may be very good at what they do. However, some patients prefer to play it safe and choose a specialist rather than a general oral healthcare provider.
For example, you might search for a prosthodontist. A prosthodontist is a dentist who has completed years of extra training, with a heavy focus on dental prosthetics, including dental implants. Prosthodontists are used to taking on complex cases and caring for all the little details that contribute to successful tooth replacement.
Ask Questions about Technology and Comforts
Various types of technology may play a role in your dental implant treatment. For example, it would be wise to choose a practice that features a CBCT scanner (also called a cone beam scanner). A CBCT machine provides a much greater level of detail than basic X-rays, so it can help your care team to anticipate any challenges that might pop up during your implant placement surgery.
Comfort is also important. Choosing a dentist who offers sedation can ensure that your surgery is as easy as possible. In fact, with the help of local anesthesia and sedation, many patients feel little to nothing while their implants are being inserted.
Find Out if You Will Need Referrals
Some dentists only perform part of the dental implant procedure. They might refer patients to another practice for their surgery, then have them come back to get their crown, bridge, or denture.
However, most patients find it more convenient to partner with a dentist who offers one-stop service. Having your entire procedure completed under one roof can ease some of the anxiety that comes with visiting an unfamiliar practice.
Give Thought to Money Matters
It would probably be unwise to partner with the first dentist who advertises "cheap" prices for dental implants. After all, you usually get what you pay for.
On the other hand, you also don't want to go with someone who inflates their prices. Look for a dentist who offers a free consultation, charges prices that are in the same ballpark as other high-quality providers in your area, and has flexible financial options.
It can take a bit of time to sift through your financial options and find an implant dentist who is right for you. Hopefully, the tips in this blog post will prove helpful.
Meet the Practice
Dr. Keyvan Kar is an experienced prosthodontist who offers start-to-finish dental implant treatment in a state-of-the-art environment. To learn more about him and how our team may be able to help you replace your lost teeth, contact our Allen dental office at 214-260-9911.