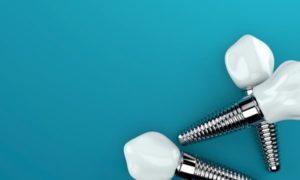 There is no other option that rivals dental implants when it comes to replacing missing teeth. Upon receiving them, patients can enjoy a beautiful, complete smile that doesn't just look better—it operates better, too! However, if you're on the fence about getting dental implants, one thing that might be holding you back is the potential cost of treatment. But you should know that dental implants are one of the most worthwhile and important investments you can make in your oral health! Here's more from your dentist about why implants are worth their cost.
The Problem with Missing Teeth
Regardless of how they're caused, gaps in your smile are very problematic because the remaining adjacent teeth can shift toward the openings and eventually fall out themselves! This creates an undesirable domino effect; what starts out as one missing tooth can result in multiple lost teeth if things are left to worsen! However, this movement is actually entirely avoidable with the help of dental implants; they fill out those sockets and encourage nearby teeth to remain in place.
5 Priceless Benefits of Dental Implants
While many factors ultimately contribute to the cost of dental implants, including how many teeth need to be replaced, their location, as well as any additional preparatory surgeries that are deemed necessary, implants are still incredibly cost-effective and come along with several priceless health benefits. Here's more about five of them:
Impressive durability – Implants are made from durable materials that can safely and indefinitely reside in your jaw. This ensures a lasting, stable connection that can endure for decades.
Unmatched versatility – Dental implants can be used to replace anywhere from one missing tooth to an entire mouth of missing teeth.
Natural-looking – Dental implants are made specifically for your mouth, meaning that they'll look and feel remarkably lifelike.
Jawbone preservation – Since the implants naturally fuse with your jawbone, they provide it with a healthy amount of simulation that encourages it to grow and retain its shape and density.
Easy maintenance – Implants don't require any special tools or equipment, and you can easily care for them at home as long as you practice diligent oral hygiene.
With so many life-changing benefits to offer, dental implants are undeniably worth their cost—so don't hesitate to invest in your smile and quality of life by committing to them!
About the Practice
Advanced Dental Care of Allen proudly serves patients and families in the area under the leadership of Dr. Keyvan Kar and his spectacular team! They offer a wide range of preventive, cosmetic, and restorative options (including dental implants) to help set up your smile for lasting health and beauty. If you have any questions about the article or would like to arrange a visit, you can contact the practice online or over the phone for further assistance: (214) 260-9911.