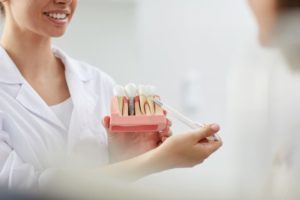 Are you thinking about getting dental implants to replace your lost teeth? If so, you have an exciting journey ahead of you, the first step of which is to attend a consultation. This appointment will lay the groundwork for your treatment and allow your dentist to get started on planning the details of your procedure. How can you have a successful experience? One thing you can do is prepare to ask these questions during your dental implant consultation:
What Credentials Do You Have in Dental Implant Treatment?
Many dentists offer dental implant treatment, but not all of them have the same amount of training and experience. Feel free to ask your dentist how many cases similar to yours they have handled in the past. You can also ask about their educational background.
Often, the best person to entrust your treatment to is a specialist, rather than a general dentist. For example, a prosthodontist is a good choice because they have extensive knowledge of how to seamlessly replace lost teeth.
How Long Will the Treatment Take?
The dental implant treatment timeline is different for everyone. It depends on your oral health, the state of your jawbone, and other details of your tooth replacement plan. Once you understand how long your start-to-finish treatment may take, you may be able to plan important life events accordingly. At the very least, you will have realistic expectations and not get impatient while you are waiting for your new smile to be complete.
Do I Have Any Risk Factors for Dental Implant Failure?
Most patients can get dental implants and enjoy their new teeth for decades to come. In fact, it is common for dental implants to last a lifetime. However, they can fail. The chances of that happening are greater if you have certain risk factors.
Fortunately, many of those risk factors are modifiable. For example, if you smoke, kicking the habit would be the best thing for your dental implants. If you are a bit inconsistent with oral hygiene, refining your daily routine would be a wise idea. You should also take reasonable steps to manage your overall wellness.
How Much Will My Treatment Cost?
Dental implants can cost several thousand dollars, so it is important for you to be realistic about whether they fit into your budget. Fortunately, most patients are able to afford them with the help of financing or other provisions.
It also doesn't hurt to compare prices from different dentists. Just be sure that you are not sacrificing quality to save a few dollars on treatment.
Can you think of any other questions you should ask during your dental implant consultation? Write down a list and bring it with you to your appointment!
Meet the Prosthodontist
Dr. Keyvan Kar is an experienced prosthodontist who offers a wide range of services for the Allen community, including dental implant placement and restoration. He is always happy to take time to answer patients' questions. If you would like to speak to him about your tooth replacement prospects, contact our office at 214-260-9911.