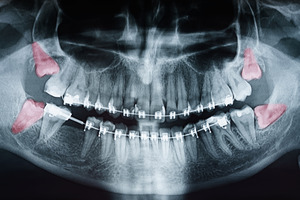 The wisdom teeth typically start to erupt during the late teens or early adult years, and dentists often recommend removing them so that they don't cause problems. As such, wisdom teeth extraction is sometimes seen as a sort of rite of passage for young adults. But are wisdom teeth actually something that everyone is born with? And if you do have them, will they necessarily need to be extracted? Here are the facts.
So, Does Everyone Have Wisdom Teeth?
Many people have a complete set of four wisdom teeth, but this isn't the case for everyone. Globally speaking, about 35% of people never develop any wisdom teeth at all, and around 20% to 25% only have one to three wisdom teeth.
Why do some people not have wisdom teeth? The exact reasons are unknown, but genetics likely plays a major role. If one of your parents never had wisdom teeth, there's a good chance that you won't develop them either. There may also be environmental factors that can affect the chances of having wisdom teeth; further research is needed.
The most reliable way to know whether you have wisdom teeth or not is to visit your dentist. By taking an X-ray of your jaw, they can determine whether wisdom teeth are present as well as whether they're likely to cause any complications.
Do Wisdom Teeth Always Have to Be Removed?
In many cases, there isn't enough room in the mouth for the wisdom teeth to properly erupt, causing them to become impacted beneath the gums. Impacted wisdom teeth can be extremely painful, and they can increase your risk of oral infection. It's therefore common to have wisdom teeth removed before they cause any lasting harm.
However, not everyone is the same. If the wisdom teeth are able to erupt normally and don't cause any problems for the rest of the mouth, it may be possible to keep them as long as you can brush and floss them effectively. Your dentist can help you figure out whether or not wisdom tooth extraction is necessary in your particular case.
Signs That You Have Wisdom Teeth That Need to Be Removed
Common warning signs that you have wisdom teeth that likely need to be removed include:
Gum pain
Swollen or bleeding gums
Headaches or jaw pain
Swollen lymph nodes in the neck
An unpleasant taste while eating
Of course, many of these symptoms can point to other problems as well, which is why it's necessary to see a dentist to have a proper diagnosis made.
In short, not everyone has wisdom teeth, and not everyone who does will need to have them removed. But if you do have wisdom teeth that are causing problems, it's best to have them dealt with as promptly as possible.
About the Author
Dr. Keyvan Kar is a dentist and prosthodontist at Advanced Dental Care of Allen. He earned his Doctor of Dental Surgery at the University of Cologne School of Dentistry in Germany, and today he makes a point of using the latest dental technology to bring his patients the highest quality of care. If you think someone in your family might need to have their wisdom teeth removed soon, you can schedule a consultation with Dr. Kar by visiting his website or calling (214) 260-9911.