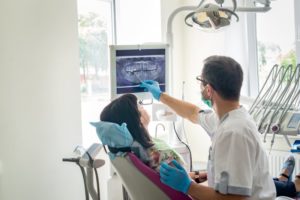 When you hear the words "wisdom teeth," what comes to mind? Many people envision eating ice cream during the recovery process before they think of these teeth being the source of acute or chronic teeth and jaw pain. In fact, the American Association of Oral and Maxillofacial Surgeons (AAOMS) shared that roughly 85 percent of them need to be pulled for that very reason. Plus, 90 percent of patients with wisdom tooth pain have at least one impacted tooth. But, how will you know if you have one? Read on for warning signs and how wisdom tooth removal in Allen can help.
What Are the Warning Signs of Impacted Wisdom Teeth?
Bad Breath: An unpleasant odor on your breath could be a result of impacted wisdom teeth. Since they are located in the back of your jaw, they are difficult to clean and can easily become a breeding ground for the germs that cause bad breath. To keep your oral health in great condition and your breath minty-fresh, call your dentist when you first notice symptoms.
Swelling: When new teeth erupt, some subsequent swelling is natural. However, if one or more of your wisdom teeth are impacted, then it can result in swelling around the jaw, in the glands of your neck or shoulder, and in your sinuses. If you notice any of these symptoms, make sure to undergo an exam by your dentist.
Pain: For patients with impacted wisdom teeth, earaches, neck and shoulder pain, and headaches are all possibilities. Due to their position in the back of your jaw, they can easily become irritated and negatively affect the TMJ joint or your sinuses. So, if you have any abnormal pain, tender glands, or difficulty opening and closing your mouth, then make sure to speak with your dentist right away.
What Is Appropriate Treatment for Impacted Wisdom Teeth?
If your wisdom teeth are causing pain, shifting your teeth, or negatively impacting your life, then it is important to speak with your dentist about whether a tooth extraction is right for you. Although this is a common procedure, your dentist must conduct a thorough exam to determine if a simple or oral extraction is best.
While both options involve sedation and complete removal of your tooth, they differ in that a simple extraction is used to remove a tooth above the gumline while an oral extraction removes a tooth that is partially or fully under the gum tissue. After your initial appointment, your dentist can provide you with preoperation instructions, as well as what to expect before and after the procedure.
If you are 17-25 years old and believe you may be experiencing wisdom tooth pain, the odds are removal may be necessary. The next step is to schedule an appointment with your dentist for an examination!
About the Author
Dr. Keyvan Kar earned his dental doctorate from the University of Cologne in Germany, where he learned just how crucial cutting-edge technology is to providing the best possible care. Because of that, he prioritizes having state-of-the-art instruments and equipment at his practice. Dr. Kar is a prosthodontist, so he is an expert in planning and delivering top-tier dental results. He offers a free consultation with a panoramic X-ray if you may need a wisdom tooth extraction. Schedule an appointment on his website or call (214) 260-9911.