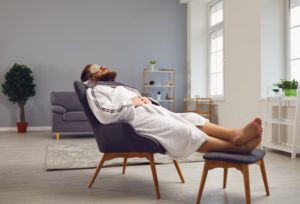 Everyone wants to recover as quickly as possible after a wisdom tooth extraction, and one of the simplest ways to ensure this happens is to get enough sleep in the weeks after the procedure. Of course, that's easier said than done. But with these 3 tips for sleeping after a wisdom tooth extraction, you'll be sawing logs and feeling like yourself before you know it.
1. Keep Your Head Elevated
It's expected that the treatment sites will bleed after a wisdom tooth extraction, and to help it clot properly, you need to sleep with your head slightly elevated above your shoulders. You can do this by doubling up on pillows in bed, or you can choose to sleep on a recliner. This will allow gravity to assist in clot formation, which is an essential first step of the healing process.
2. Take Medication As Directed
You may be given prescription pain medication after your procedure, and if so, be sure to take it before you go to bed (or earlier depending on the instructions on the packaging). This will stop any lingering soreness that could keep you up. If you don't have a prescription, OTC medication like ibuprofen is a good substitute—just be sure to take it about an hour before you plan to go to sleep.
3. Take Out Your Gauze
Your dentist and their team will use gauze to cover the treatment site(s) and lessen any bleeding. In the hours following a wisdom tooth extraction, it's best to change it out about every two hours. By the time you go to bed, it should have mostly stopped. It's important to take your gauze out because sleeping with it (especially while on pain medication) is a choking hazard. If you're still bleeding by the time you want to go to sleep, stay up a little longer and try to wait until it has basically stopped.
Taking care of yourself following a wisdom tooth extraction is important both in the short term and the long term when it comes to your oral health. By following these tips and getting plenty of Zs, you'll be through the process right away.
About the Author
Advanced Dental Care of Allen is led by Dr. Keyvan Kar. He and the team give patients trustworthy, comfortable care that transforms smiles for the better. That said, they are ready to provide preventive, cosmetic, and restorative dentistry, including emergency dental care when needed. To get more information about wisdom tooth extractions (like finding out if you need one), you can reach Dr. Kar by clicking here or calling (214)-260-9911.