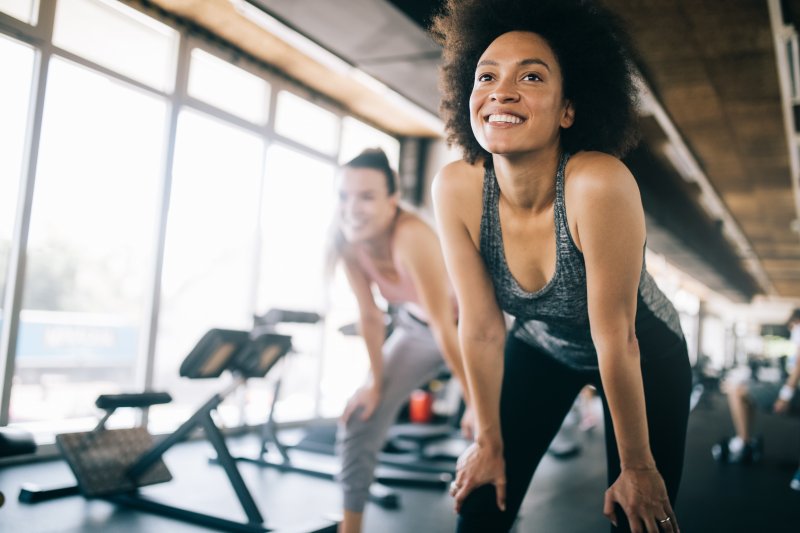 In most peoples' minds, physical exercise is a near-absolute good. Unless you're sick or injured, it only benefits you and has no downsides. However, did you know exercise could hurt your oral health if you're not careful? The truth is that workouts and the like can sometimes damage teeth and gums. That said, you'll want to take steps to ensure your physical fitness doesn't risk your smile. Here's a summary of how exercise can harm oral health and what you can do to avoid such outcomes.
What About Exercise Harms Teeth?
There tends to be a pattern of how exercise damages the oral cavity, especially among athletes. In particular, intense physical activity can lead to:
Open Mouth Breathing
When you engage in a heart-intensive workout — a jog, for example — you might start doing some open-mouth breathing. This habit isn't good for teeth, as it dries out your saliva and creates a den for harmful oral bacteria. Dentists have supported these facts by linking open-mouth breathing to cavities, tooth decay, and even gum disease.
Grinding & Bruxism
In certain kinds of weightlifting and sports, people tend to clench or grind their teeth. As you'd expect, this process can wear down your pearly whites and cause issues with your TMJ. It could even lead to tooth chips, cracks, or fractures if it gets really bad.
Sports Drinks
You might have a sports drink or two if you need to rehydrate after a long exercise or workout. Unfortunately, these beverages take a toll on tooth enamel.
According to a study published in the Academy of Dentistry's clinical journal, these drinks can damage teeth in less than five days. Because sports drinks are highly acidic, they erode your pearly whites and often cause tooth decay and cavities. Plus, sipping them throughout the day exposes enamel to even more sugars and acids than they would otherwise.
Ways to Protect Your Teeth from Exercise
Fortunately, it's possible to protect teeth from the factors listed above. That said, consider following these tips in the future:
Have fewer sports drinks: Instead, drink water for healthy hydration that won't hurt enamel. Tap water would be even better, as it has fluoride that can strengthen your teeth's top layer.
Wear a mouthguard: As long as you wear this oral appliance, you can protect yourself from injuries due to jaw-clenching or teeth-grinding.
Breathe through your nose: Even if you're tempted, don't breathe through your mouth during workouts. Rather, breathe through your nose to maintain your mouth's saliva levels and improve your airflow.
Practice good oral hygiene: As always, brush your teeth twice daily, floss once daily, and rinse with mouthwash as needed. Also, visit your dentist every six months for checkups and cleanings.
You shouldn't have to pick between physical health and oral health. Luckily, the tips above will ensure your exercises build up your body even while leaving your teeth alone.
About the Practice
Advanced Dental Care is based in Allen, TX. As led by Dr. Keyvan Kar, the practice gives patients trustworthy, comfortable care that transforms smiles for the better. That said, its staff performs preventive, cosmetic, and restorative dentistry, including emergency dental care when needed. Whether you need a dental checkup or a dental implant, they'll help your teeth flourish. For more information or to book an appointment, you can reach them on their website or by phone at (214)-260-9911.