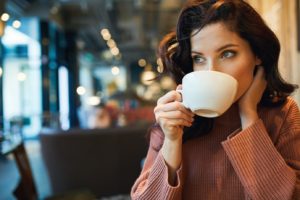 Around the world, millions of people rely on their morning cup of coffee to help them ease into the day. If you are among them, you may have questions about how cosmetic dentistry might affect your daily cup of Joe. Specifically, you may wonder, can you drink coffee with veneers? Yes, you can! Here is some practical guidance to help you enjoy your favorite morning beverage without endangering your veneers:
Extra Caution Is Necessary with Temporary Veneers
As part of your veneers treatment process, you will have to wear temporary veneers for a while. They tend to be more vulnerable to stains than temporary veneers, so it would be best to avoid coffee while you have them. However, if you choose to keep drinking it, you should do so in moderation. It is also smart to drink it through a straw so it has as little contact with your teeth as possible.
Permanent Veneers Are Highly Resistant to Stains
Permanent veneers are made out of porcelain, a nonporous material that does not easily absorb pigments. In fact, your natural teeth are likely to incur coffee stains much more quickly than your veneers. You should be able to enjoy your java in moderation without worrying that it will cause your veneers to become discolored.
However, you should be aware of the dangers of overconsumption. The bonding material that keeps your veneers in place may stain over time, which can affect your smile's appearance. Additionally, if your veneers have any small scratches, pigment may collect in them.
How to Reduce the Staining Potential of Veneers
Here are some additional tips to reduce the risk that coffee or other dark beverages will cause stains on your new smile:
Practice thorough oral hygiene. You should brush your teeth twice a day and floss at least once a day. Drinking plenty of water can also be helpful.
Use the right products. Abrasive toothpastes, as well as toothbrushes with hard bristles, can easily scratch veneers and cause them to lose their original beauty. Ask your dentist for recommendations on which products can keep your veneers in great shape.
Visit your dentist regularly. Visiting your cosmetic dentist once every six months is a smart practice. They can polish your veneers, give you personalized advice for oral health maintenance, and more.
Minimize sugar in your coffee. Sugar itself does not cause stains. However, it can adversely affect your oral health. Try to take your coffee black or with a splash of unsweetened creamer.
Committing to veneers doesn't mean you have to give up coffee. However, you may have to adjust some of your habits so your delicious morning ritual doesn't dampen your smile's beauty.
Meet the Prosthodontist
Dr. Keyvan Kar is an experienced prosthodontist (a dentist who specializes in dental prosthetics). He is a true expert at designing, placing, and maintaining veneers. If you have questions about what to expect with this cosmetic treatment, he would be happy to speak with you. Contact our office at 214-972-2739.