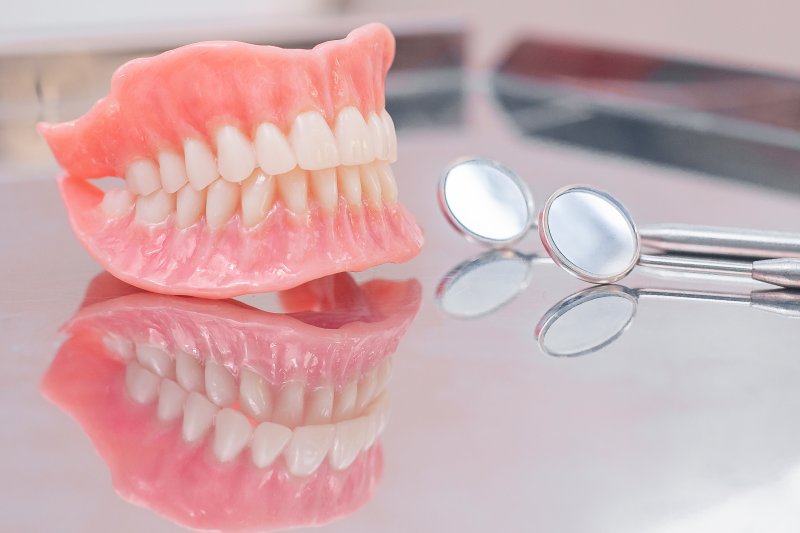 Dentures let people who have lost one or both arches of teeth continue to eat, speak, and smile comfortably every day. But while dentures are made to be durable, they do typically need to be replaced every 7 to 10 years or so – possibly sooner if they're damaged in some way. How will you know when it's time for new dentures? Below are 4 key warning signs that you should watch out for; any one of them could be a clue that you need to call your dentist in the near future to talk about having your dentures replaced.
1. Your Dentures Have Started Feeling Loose
Dentures are designed to stay in place on your gums thanks to natural friction and suction. For this to work, there needs to be a tight fit between your denture and your gums. However, over time your gums might change shape due to shifts in the underlying bone structure. Consequently, dentures that previously fit perfectly may start to come loose, causing them to slip at inconvenient times or even fall out entirely. Sometimes loose dentures can be adjusted for a better fit, but in other cases, they'll need to be replaced entirely.
2. You Have Started Slurring Your Words
It's not unusual to slur your words when you first get dentures. The problem normally goes away on its own once your mouth adjusts to the prosthetic. But if slurring returns – or if there are any other changes to the way you speak – it may be a sign of dentures that have become ill-fitting. It will be up to your dentist to decide whether this problem can be solved by relining your dentures or whether you'll need new ones altogether.
3. The Base of the Denture is Broken
Trying to eat and speak with broken dentures can lead to oral injuries and other problems. Any damage needs to be corrected by a dentist right away. If just a single tooth is broken, it can typically be fixed. On the other hand, if the base of your denture breaks, you'll definitely need to get a replacement. After all, individual teeth can be replaced, but the base needs to be intact for the denture to function. Do not try to fix a broken denture yourself; call your dentist right away.
4. You are Experiencing Pain or Discomfort in Your Gums
If your dentures have been damaged or no longer fit properly, you may start to experience oral pain whenever you bite or chew. In many cases, you may also notice sores or lesions on your gums. Dentures need to be replaced as soon as possible if there's any sign that they've started hurting your mouth.
Properly fitted, fully intact dentures are essential if you want to continue getting the most out of life. If you have any reason to think that your dentures might be reaching the end of their lifespan, make an appointment with your dentist. They can help you determine whether or not a replacement is truly needed.
About the Author
Dr. Keyvan Kar earned his Doctor of Dental Surgery degree from the University of Cologne School of Dentistry in Germany, and he has received a Certificate of Advanced Education in Prosthodontics from the Herman Ostrow School of Dentistry at the University of Southern California. He is an expert in replacing multiple teeth at once with custom-designed, expertly fitted dentures. If you think your dentures might have to be replaced soon, schedule a consultation with Dr. Kar at Advanced Dental Care of Allen by visiting his website or calling (214) 260-9911.