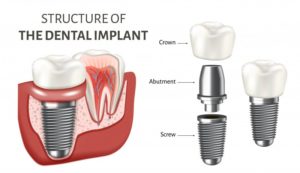 Among the 326 million people who live in the United States, a whopping 178 million of them are missing at least one tooth, according to the American College of Prosthodontists (ACP). There are an estimated 40 million Americans who are missing all their teeth. Those are startling figures, but the truth is that nobody must live that way with several tooth replacement options available to them, including dental implants and dentures. Dentures are a popular option and tough to beat when the cost is factored in, but do they check all the boxes? One issue related to tooth loss is the bone reduction in your jaw. Keep reading to learn from your dentist in Allen if dentures or implants can address jawbone preservation.
How Do You Lose Bone Mass in Your Jaw?
When chewing your food, you're stimulating your jawbone via the roots of your teeth. This allows it to remain strong and healthy. However, if you have a missing tooth, that area of the jawbone isn't being stimulated to the same extent, and your body will end up reabsorbing it over time. In the end, you could end up with physical changes like sunken cheeks and wrinkled lips that make you appear much older than you really are.
Can Dentures Help with Bone Loss?
Dentures can be life-changing for people who have lost most or all their teeth. Traditional dentures are secured by the natural suction of the mouth and restore the appearance and function of the smile. However, this type of denture doesn't prevent bone loss because they don't replace the roots of the missing teeth. Instead, they sit on top of the gums and don't stimulate the jawbone.
Are Dental Implants the Answer?
Dental implants are small titanium posts that are surgically inserted into the jawbone to replace the roots of missing teeth. Over time, the implant will fuse to the jawbone during a process called "osseointegration." A customized crown, bridge, or denture is placed on the implant or series of implants. Here are some of the benefits:
Stability: Implants can restore up to 90 percent of your chewing power, so you don't have to worry about cutting out any of your favorite foods once they have healed completely.
Durability: Traditional dentures need to be repaired and replaced periodically. On the other hand, implants can last up to 25 years or longer with proper care.
Jawbone Preservation: Unlike traditional dentures, implants replace the roots of the missing teeth and stimulate the jawbone. This keeps the jawbone from being reabsorbed by the body over time.
Traditional dentures can be a great tooth replacement option for some people, especially when the cost is the priority, but they do not factor into jawbone preservation. Dental implants do impact the jawbone, however, and they may be the difference-making addition your smile needs!
About the Author
Dr. Keyvan Kar earned his dental doctorate from the University of Cologne in Germany, where he learned just how crucial cutting-edge technology is to provide the best possible care. Because of that, he prioritizes having state-of-the-art instruments and equipment at his practice. Dr. Kar is a prosthodontist, which means dental implants and implant reconstruction are areas of expertise for him. He offers a free implant consultation for you to learn more, which you can schedule on his website or by calling (214) 260-9911.