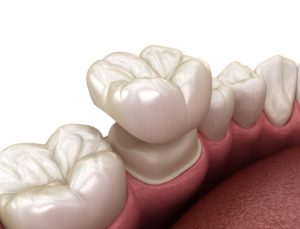 If one of your teeth has suffered damage, your dentist is likely to recommend that you undergo restorative treatment. Both fillings and crowns are commonly used to renew the appearance, function, and strength of teeth. However, while these two treatments have much in common, they are also quite different in some respects. This blog post discusses a few of the biggest differences between dental crowns and fillings.
What Are They?
A filling is used to fill in a damaged area of a tooth, thereby preventing future damage and protecting the tooth's vulnerable inner layers. A crown is also called a "cap" because it is a custom-made restoration that covers the entire portion of a tooth that is visible above the gumline.
Purpose
In most cases, fillings are used only to repair minor damage to teeth. For example, you might need one if you have a small cavity that is affecting your enamel. Fillings can also be used in some cases to address cavities that extend into the second layer of a tooth (called the dentin).
Crowns, on the other hand, are usually reserved for more severe damage. In addition to covering extensive decay, they can also hold together a cracked tooth, renew the strength of a worn-down tooth, or restore the appearance of a misshapen or otherwise unsightly tooth.
Process
Fillings typically take just one appointment to place. First, the dentist removes decayed tissue from the tooth. Then, they insert the filling material. The final step is to make any necessary adjustments to the filling's shape so that it does not interfere with the patient's bite.
Creating a crown is a more complex process. The dentist must prepare the tooth by altering its shape so it will fit well beneath its restoration. Then, impressions are taken. The patient wears a temporary crown while a laboratory crafts a permanent cap for the damaged tooth.
Materials
In the past, fillings were primarily made out of silver amalgam, a mix of mercury and other metals. Today, though, most practices use a tooth-colored resin instead. Not only does the resin blend in with the surrounding dentition, but it is also metal-free and poses very little health risk to the human body.
Crowns can be constructed out of various materials. Some are made out of gold, silver, nickel, or other metals. Patients who would prefer for their restoration to blend in with their natural teeth usually opt for a porcelain crown, which can be shaded to look nearly identical to real enamel.
Cost
In most cases, a crown costs more than a filling because its treatment process is more complex. However, dental insurance is usually willing to cover a portion of the cost of both procedures.
Fillings and crowns have some big differences between them, but they have one major point in common — they can both be used to help you enjoy optimal oral health!
Meet the Dentist
Dr. Keyvan Kar is an experienced general dentist and prosthodontist (a specialist who focuses on creating dental prosthetics, including crowns). He is always happy to answer patients' questions about the services he provides. To learn more about him and how our team may be able to serve you, contact us at 214-260-9911.