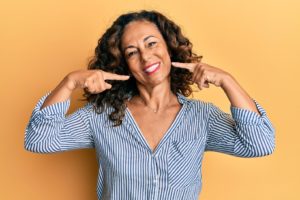 If you have suffered the loss of one or more teeth, your dentist may have encouraged you to think about getting dental implants. They offer some remarkable health benefits. Still, if you are an image-conscious individual, you might hesitate to schedule a detailed implant consultation because you are concerned about whether the implants will look natural. Will people be able to tell that you have prosthetic teeth? Simply put, they are the most aesthetically pleasing form of tooth replacement. Let's talk about some of the top cosmetic benefits of dental implants.
You Can Maintain Your Facial Shape
After the loss of natural teeth, the jawbone begins to deteriorate. Eventually, it can shrink to the point where it affects an individual's appearance. Fortunately, implants stimulate the jawbone and help to keep it strong and whole — meaning you can maintain your face's natural shape.
The Implants Are Completely Concealed
Most dental implants are made out of a titanium alloy, which is quite dark in color. Fortunately, with precise placement of the implant in the jawbone, it should be completely concealed after you recover from surgery and your restoration (crown, bridge, or denture) is in place. (Rarely, a grayish tint is visible through the gums, but that is usually avoidable if you partner with an experienced implant dentist.)
The Restorations Are Made Out of Top-Quality Materials
Dental implant restorations are usually constructed out of ceramic, which bears a strong resemblance to tooth enamel. In fact, it even reflects light similarly to real teeth. Your dentist or prosthodontist can match the color of your restoration to the surrounding teeth so it blends in seamlessly with the remaining natural part of your smile.
The Restorations Are Carefully Designed
The last thing you want is a restoration that is too big, too small, or otherwise not a perfect fit for your mouth. Fortunately, you can expect your dentist to design your restoration so it is the ideal size and shape for you. They will make sure that it provides you with a comfortable bite and that its appearance is both natural and subtle. You can expect especially good results if you choose a prosthodontist (a dentist who specializes in prosthetics) to design your restoration.
There Is No Embarrassing Slippage
Have you ever met someone with dentures and immediately knew that they had false teeth? It might have been especially apparent when they spoke or ate and their teeth slipped out of place. That will never happen with dental implants. They are anchored in the jawbone, and the restorations on top of them are firmly secured right where they belong. You will be able to laugh, speak, smile, and eat with total confidence.
Dental implants are more than just a way to fill an empty space in your smile. They can also enhance your appearance and perhaps even give you a big confidence boost!
Meet the Prosthodontist
Dr. Keyvan Kar is a general dentist and prosthodontist who provides comprehensive dental implant services. He has many years of experience and takes great care to help patients enjoy smiles that are both healthy and attractive. To learn more about him and how he may be able to serve you, contact our office at 214-260-9911.