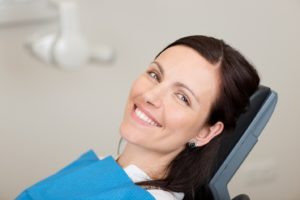 Do you enjoy visiting the dentist? Many people look forward to their checkups and cleanings because their appointments give them a fresh mouth and a healthier smile. Others, though, feel a touch of anxiety when they think about visiting the dentist, whether they need a cleaning, a filling, or a more extensive procedure. If that is true of you, you might benefit from sedation dentistry. Let's discuss how it can help you feel more relaxed at your next dental appointment. We'll also talk about some of the other remarkable advantages that it offers.
Anxiety Relief
There are a few different types of sedation dentistry, but they all have one important point in common: they result in a reduction of anxiety and fear. Nitrous oxide, for example, is known for helping patients feel relaxed and happy. Oral conscious sedation suppresses the brain's fear response and induces an extremely relaxed, somewhat drowsy state of mind. IV sedation produces similar results. The best type of sedation for you depends on the degree of your anxiety, the procedure you are undergoing, and other factors — your dentist will make a recommendation based on your unique circumstances.
Reduced Gag Reflex
Even if you are not afraid of the dentist, you may still wish to be sedated, particularly if you have a strong gag reflex. Sedation can dull that reflex, so it is easier for your dental team to use various instruments in your mouth without worrying about making you uncomfortable.
Amnesia
While amnesia usually associated with a negative connotation, it is actually a good thing in some instances. If you dislike the sights, sounds, and smells of having your teeth worked on, certain types of sedation — including oral conscious sedation — may be able to wipe those stimuli from your memory.
Pain Relief
For some patients, local anesthesia is not enough to sufficiently numb their mouth. They may be particularly sensitive to oral pain, and having their dental team work in their mouth may only increase their discomfort. Fortunately, the brain cannot register pain when it is under the influence of the medications that are used in some types of sedation dentistry. You can expect a comfortable treatment experience from beginning to end.
Faster Treatment
Your dentist is considerate of your feelings, so when you are not sedated, they may go extra slow and take occasional breaks when they are working in your mouth. They might even decide that it is best to schedule complex procedures across multiple appointments. Sedation allows them to work faster, meaning you can spend less time in the dental office.
Sedation is a wonderful provision for many patients. Before your next appointment, ask your dentist what options are available in their office — it may change the way you think about dentistry!
Meet the Dentist
Dr. Keyvan Kar is both a general dentist and a prosthodontist (a dental prosthetics specialist). He offers a range of services, and multiple types of sedation are available in his practice. He takes pride in creating a positive experience for each patient. To learn more about him and how he may be able to serve you, contact our team at 214-260-9911.