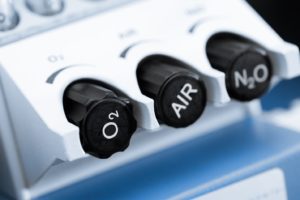 If you hesitate to schedule dental appointments because you are nervous about receiving treatment, you may be thinking about choosing a practice that offers nitrous oxide sedation. After all, it can help you relax, and it doesn't involve the use of needles. Seems like a pretty sweet deal, right? Still, you might wonder if nitrous oxide is safe. The good news is that for the vast majority of patients, this form of sedation poses little to no risk. Let's talk more about it and its safety considerations.
A Brief History of Nitrous Oxide
Nitrous oxide was discovered hundreds of years ago, and it has been used in medical and dental settings since the 1800s. In the early days of its usage, it may have taken some trial and error before dentists learned how to administer it in the best way. Today, though, techniques and regulations have been refined, making nitrous oxide one of the safest ways to promote relaxation and calmness during dental procedures.
What Safety Measures Do Dentists Take?
Dentists are trained to administer nitrous oxide in a safe manner. Some of the precautions they take include:
Learning about a patient's medical history and allergies. This helps dentists identify any risk factors that might lead to a negative reaction to nitrous oxide. For example, it is not generally recommended during pregnancy.
Making sure enough oxygen is used. Nitrous oxide is not used by itself in dentistry. It is mixed with oxygen to minimize the risk of negative side effects.
Carefully monitoring patients. During your treatment, your dental team will keep a close eye on you. If you begin to exhibit signs of a negative reaction to sedation, they will take immediate action to help you.
What Are the Risks?
Nitrous oxide is a very low-risk form of sedation when it is administered by a trained medical professional. Some patients experience mild side effects, such as nausea and a headache, but those tend to wear off fairly quickly. If you must regularly use nitrous oxide, it's possible that a vitamin B12 deficiency could develop, but that can be addressed via the proper use of supplements. Allergies to nitrous oxide are rare, but they can cause people to experience hives, difficulty breathing, and fever.
If you ever hear any "horror stories" about nitrous oxide, be aware that they are usually the result of recreational users not taking proper precautions. Overdoses of nitrous oxide can be dangerous, but they are virtually non-existent in medical and dental settings.
Does going to the dentist make you nervous? Ask your dental team if nitrous oxide sedation is available — it is a safe and effective way to get through treatments with as little stress as possible.
Meet the Dentist
Dr. Keyvan Kar is an experienced general dentist and prosthodontist. He offers multiple forms of sedation, including nitrous oxide, and he takes ample safety precautions to protect patients. If you would like to learn more about Dr. Kar and how our team can help you enjoy a comfortable dental care experience, contact us at 214-260-9911.