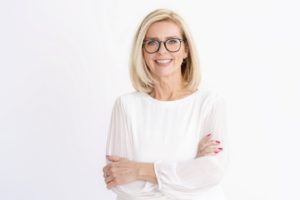 Skin care, exercise, and a balanced diet are just a few essential components of looking and feeling young. But your smile also has a large bearing on how old you look. If you have suffered tooth loss, a traditional denture or bridge can do much to enhance your appearance. However, they are not ideal tooth replacements. What about dental implants? Do dental implants make you look younger? Yes. Let's talk about why they are the best way to rebuild your smile.
Dental Implants Maintain Your Face's Shape
Extensive tooth loss can cause your cheeks to lose their natural structure, leading to a sunken facial appearance. Traditional dentures can address this issue, but they do nothing to correct another big problem related to tooth loss — bone deterioration in the jaw. After the natural teeth go missing, the jawbone begins to be resorbed. That is to say, your body recycles its raw materials, causing the bone to become smaller and weaker over time. Eventually, this can significantly affect your appearance Fortunately, dental implants act as substitute tooth roots. They stimulate the jawbone, helping to keep it healthy, strong and whole.
Dental Implants Look Incredibly Natural
You've probably seen people with traditional dentures and automatically noticed that their smile wasn't completely natural. You may have also seen individuals with missing, broken, or yellowed teeth and assumed they were somewhat up in years.
As the next best thing to natural teeth, dental implants in Allen can give you a youthful smile. The implants themselves can be completely concealed beneath the gumline, and the restorations (artificial teeth) on top of them are constructed out of lifelike materials. You can expect to enjoy a particularly natural appearance if you rely on a prosthodontist to create your new teeth. Prosthodontists are extensively trained in both the art and science of designing beautiful, natural-looking dental prosthetics.
Dental Implants Reduce the Risk of Future Tooth Loss
Did you know that tooth loss often follows tooth loss? This can happen because once a tooth goes missing, the other teeth may drift out of place. A tooth directly above an empty space may even over-erupt, extruding so far out of the gumline that it can no longer function properly. Dental implants serve as placeholders, helping to keep your remaining natural teeth where they belong.
Dental Implants Enable You to Eat Anything
Even when dentures look incredibly natural, they still have their limitations when it comes to food. What you choose to eat, and how you eat it, could reveal that you are wearing a prosthetic. Dental implants, on the other hand, are able to handle virtually any food, including tough and chewy items. When you are eating socially, other people may never be able to guess that you have suffered some tooth loss.
Tooth loss doesn't have to make you look older. Thanks to dental implants, you may be able to maintain a youthful, strong, and healthy smile for decades to come.
Meet the Practice
Dr. Keyvan Kar is a general dentist and prosthodontist who offers start to finish dental implant treatment. He has already helped many people, including both young adults and seniors, to look and feel their best with high-quality tooth replacement services. To learn more about how he may be able to serve you, contact our office at 214-260-9911.