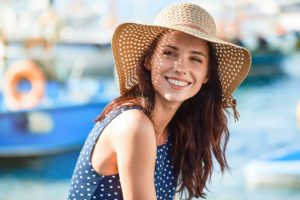 There is no such thing as a bad time to get dental implants in Allen. When you embark on your tooth replacement journey, you are headed for a future that is full of strong teeth and confident smiles. Still, it's understandable if you hesitate to schedule your dental implant surgery due to concerns about time restraints or other factors. Let's talk about a few reasons why summertime is a prime opportunity to get started with dental implants.
You May Have Time Off of Work
Many employers expect their team members to take some time off of work during summer, so it may be easier for you to schedule a few days off to recover from your surgery. You could plan to spend the first few days of your vacation mending from your procedure, after which you should be feeling well enough to enjoy some much-needed recreation.
Of course, if you don't want to use part of your vacation for your dental implant surgery, that is understandable. Most patients are feeling well enough to return to work within one or two days after their procedure.
Your Family May Be More Available to Help You
Your spouse and children may have less on their plate during summertime than they do throughout the rest of the year. Therefore, they may be more available to help you as you recover from your surgery. The kids can do things like walk the dog and keep the house clean, while your spouse may be more than willing to take care of necessary errands around town.
You Will Be Ready for Summer 2022
From start to finish, dental implant treatment typically takes several months to a year. If you get started with treatment now, you may have a strong and radiant new smile by next summer. Hopefully, the worst of COVID-19 will be a distant memory by them, and you will be able to enjoy a mask-free summer of backyard barbecues and up-close socialization.
Sooner Is Better
The sooner you receive dental implants after you lose your natural teeth, the better. That's because the jawbone naturally begins to shrink after the teeth are gone. Over time, it can deteriorate to the point where it is no longer able to support dental implants. This results in the need for a bone graft, which can significantly extend your treatment timeline. Getting dental implants as soon as possible can help you avoid extra steps in your treatment process.
Have you been thinking about getting dental implants? Right now is the ideal time to visit your implant dentist in Allen to talk about your tooth replacement options!
Meet the Dentist
Dr. Keyvan Kar is an experienced dentist and prosthodontist who is proud to provide start to finish dental implant treatment. He uses a combination of state-of-the-art technology, advanced techniques, and top-quality materials to help patients enjoy strong, healthy, and durable tooth replacement. If you have questions about dental implants or are ready to get started on your treatment journey, he would be pleased to consult with you. Contact our office at 214-260-9911.