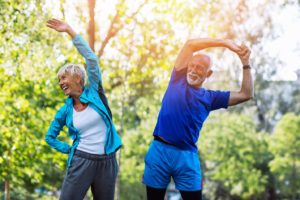 Exercise, a smart diet, and avoidance of bad habits are some of the primary pillars of a long and healthy life. But they are really just the tip of the iceberg. Your dental health may also play a large role in how long you live. Specifically, tooth loss is associated with a number of conditions that could lead to early mortality. In this blog, we consider why that is the case and how dental implants in Allen may be able to extend your life expectancy.
Missing Teeth and Decreased Longevity
Research suggests that people who have lost five or more teeth by the time they are 65 years old have a higher risk of suffering from diabetes, cardiovascular disease, and osteoporosis. It has also been found that individuals who make it to 74 years of age with all of their teeth are more likely to live for 100 years than those who experience tooth loss.
Why does it seem that tooth loss and a shortened life expectancy go hand in hand? There are a few possible explanations. One is that tooth loss and gum disease often occur in the same individual. The bacteria responsible for gum disease can sneak into the bloodstream and heighten the risk of serious health problems, including heart attack and stroke. Another possible reason is that some bad habits that contribute to tooth loss (such as a poor diet) can also shorten life expectancy.
Can You Live Longer with Dental Implants?
Dental implants are often called "the next best thing to natural teeth." That statement holds true because of the many benefits offered by this treatment. Here are a few ways in which dental implants may help you to lead a healthier (and possibly longer) life:
Stronger bite force. Research indicates that older men with a weak bite are up to 84% more likely to die before they reach their mid-80s than those who have a strong bite. The bite force provided by dental implants is incredibly strong — much stronger than what you would experience with traditional dentures.
The ability to eat anything. Some people with tooth loss tend to lack variety in their diet, which can lead to dangerous nutritional deficiencies. Dental implants can equip you to eat virtually anything, including raw fruits and vegetables.
A better social life. Social isolation and chronic loneliness are linked to an increased risk of death. If tooth loss has adversely affected the way you interact with others, dental implants may give you the confidence to enjoy a more active social life. This is especially true for individuals who have natural-looking replacement teeth designed by a prosthodontist in Allen.
Decreased risk of tooth loss. Tooth loss often follows tooth loss. Dental implants may lower the risk that you will lose the remainder of your natural teeth.
Tooth loss might shorten your life! Fortunately, dental implants can mitigate many of the risks associated with missing teeth.
Meet the Prosthodontist
Dr. Keyvan Kar is an experienced general dentist and prosthodontist. He performs start to final dental implant treatment in a welcoming, state-of-the-art environment. If you are interested in learning more about the benefits of permanent tooth replacement, he would be happy to speak with you. Contact our office at 214-260-9911.