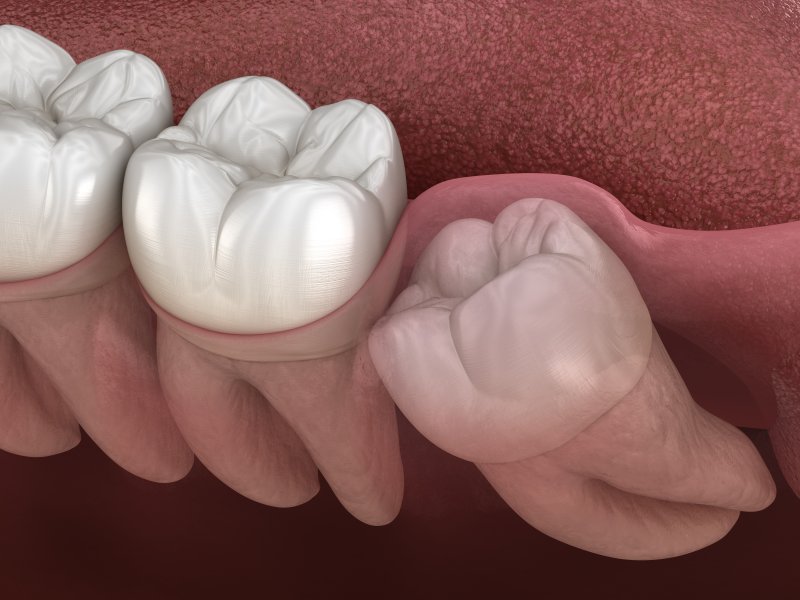 Are you experiencing severe wisdom tooth pain? While it may be mistaken for sinus congestion or jaw pain, the truth is that if these teeth have yet to erupt, they could be wreaking havoc beneath the gum line. When a tooth is impacted, it's important that you seek immediate help to have it removed. But how can you know if what you're experiencing is actually an impacted wisdom tooth (third molar)? Here are 3 warning signs that will indicate it's time to see a dentist.
3 Warning Signs of Impacted Wisdom Teeth
Unsure if the pain you're experiencing is attributed to teeth that have yet to erupt? Here are 3 warning signs to watch for:
Intense/Severe Pain
This is often the most obvious symptom associated with impacted wisdom teeth. It is possible to feel severe discomfort in more than just your mouth. You may also experience it throughout your jaw, ears, head, face, neck, and shoulders. It might also become difficult to open and close your mouth. Because these teeth exist in the back of your jaw, you might assume you're dealing with temporomandibular joint disorder (TMD) or sinus congestion. This is why it's important to recognize the other areas that might experience discomfort, so you can more easily identify that it is your wisdom teeth causing problems.
Gum Inflammation and Swollen Jaw
It's not uncommon for gum inflammation to occur when teeth are preparing to erupt; however, if for some reason these third molars never break the surface, you may begin to experience swelling in other areas of your facial structure, such as your jaw, face, sinus cavity, or even your glands located in your neck and shoulders.
Bad Breath
Should your wisdom teeth partially erupt, it can make them extremely hard to maintain. Brushing and flossing are nearly impossible because they're often hard to reach. As a result, bacteria can grow and spread into the pits and grooves, resulting in decay and worsening oral health. You may even notice a bad taste in your mouth or foul breath. If this is the case, you'll want to get in to see your dentist as soon as possible.
Why They Need to Be Removed
When it comes to dealing with impacted teeth, it can certainly be an uncomfortable time. Although it is common for teenagers and young adults between the ages of 15-25 to experience wisdom tooth extractions in Allen, it's important that these be removed before natural, healthy teeth are negatively affected. If left untreated, they can press against nearby teeth and force them out of alignment. It is also possible to develop a serious infection or decay if the tooth has partially erupted. Seeing a qualified professional to remove these teeth will help to safeguard your smile from future problems and allow you to achieve relief from the pain.
Wisdom tooth removal is oftentimes a necessary part of life. Fortunately, your dentist will go above and beyond to ensure your safety and comfort throughout the procedure. Using sedation dentistry to keep you calm and relaxed, the removal process will be over before you know it, allowing you to move forward with a swift and successful recovery at home.
About the Author
Dr. Keyvan Kar earned his Doctor of Dental Surgery degree from the University of Cologne School of Dentistry in Germany. He later went on to achieve his Certificate of Advanced Education in Prosthodontics from the Herman Ostrow School of Dentistry at the University of Southern California. Each day, Dr. Kar and his team at Advanced Dental Care of Allen work hard to provide exceptional care to patients in need. If impacted wisdom teeth are causing you or a loved one significant pain, visit our website or call (214) 260-9911 to find out what we can do to help.