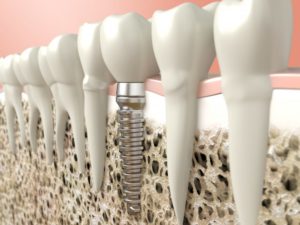 Did you know that more than 60 companies manufacture dental implants and the materials necessary for them? As a result, dentists have the opportunity to utilize many different types of dental implants depending on their patients' needs. If you're interested in having implants placed and didn't know you had options, you'll want to keep reading.
Today, a dentist will go over multiple types of dental implants in Allen, their benefits, and how to choose the right one for your case.
Single-Stage vs. Two-Stage Implants
Dental implants consist of three parts: an implant post, an abutment, and a restoration. The implant is the device that acts as the prosthetic root and anchors into the jaw bone. The abutment connects the implant and restoration together via a screw. When we're talking about single-stage vs. two-stage implants, we're talking about the steps taken to complete the overall treatment.
For example, single-stage implants involve surgically placing a longer implant into the jaw so that it remains visible above the stitched gum tissue. This way, after the implant has fully healed and integrated with the bone, the surgeon doesn't have to reopen the gum tissue just to place the restoration.
Alternatively, two-stage implants require reopening the gum tissue in order to expose the top portion of the implant, therefore giving the surgeon proper clearance to place the abutment and restoration.
What are the Benefits?
Two-stage dental implants were considered the standard for a long time, but advancements allow patients to avoid the need for a second surgery altogether. However, not all patients will be able to do this, depending on the height and condition of your gums and the stability of your bone.
If you are able to have implants placed in a single stage, you may be able to get your permanent restoration placed sooner. This may be especially important to you if you plan on getting front-facing teeth replaced with implants. Whatever option you decide, you'll need to have a discussion with a dentist trained in implant placement first.
Endosteal vs. Subperiosteal Implants
Endosteal implants are the most commonly placed dental implant in dentistry today. These are the typical implants that are placed directly into the jaw bone. They're also made of the biocompatible material titanium and shaped like small screws. If you have sufficient bone volume in your jaw, these are most likely the implants you'll be receiving.
Alternatively, patients can use subperiosteal implants, which are placed under the gum tissue but above the jaw bone. If you do not have enough healthy jaw bone and either cannot or will not undergo bone augmentation to increase your bone volume and density, you'll fair better with this option.
With so many options to choose from, it's important that you discuss them further with an expert. Schedule an appointment with a dentist in Allen today to make sure you make the right decision!
About the Author
Dr. Keyvan Kar earned his DDS degree from the University of Cologne School of Dentistry in Germany. A few years later, he earned his Certificate of Advanced Education in Prosthodontics, making him specially trained in the placement and restoration of dental implants. To learn more about his practice, contact him through his website.